By Elena Kaye-Schiess,
NeighborWorks Rural VISTA
Recently I had the opportunity to
attend the National Rural Assembly in
Bethesda, Maryland where rural leaders and organizations from across the
country come together under the guiding principle that an inclusive,
prospering, and sustainable rural America improves prospects for all of
America. Participants focus on key rural policy areas like health, education,
community development and conservation.
Secretary of Agriculture Tom Vilsack
delivered the keynote speech where he said that rural America is faced with
some very serious challenges, "one of the principle reasons is that we don't
market the extraordinary opportunities that exist in rural America, and we make
it more difficult for young, bright people to see their future there, and many
who are raised there leave and do not come back".
I grew up in a small town of
2,500 in rural Maine, and when I left for college I enjoyed bragging to my mostly
urban classmates about the quirky challenges of my rural upbringing – "When I
was a kid, to collect eggs I had to beat back an aggressive rooster with one
hand while knocking hens out of the way with the other," or, "Ever try riding a
sheep?" And, "Have I
told you about the town pig scramble?"
I often told stories of my
hometown with pride, but also as if being from rural was a challenge I was
proud to have overcome. However, after attending college outside the US, when I
graduated in 2011 I wanted nothing more than to spend the summer back home with
my family. But, I was terrified that my job options would range from cashier at
The Corner Store (that's really the name) to cashier at the other store,
"Boonies". Even worse, I thought that after spending four years abroad my
community was going to think of my return as the ultimate failure. I remember
just a few days before graduation I timidly knocked on my professor's door and
explained my desire to go home, but also my fear of judgment and the dearth of
opportunities waiting for me. Her advice, "you have to figure something else
out".
I reflected on this conversation
at the Rural Assembly during a Young
Professionals Leadership Training on Public Narrative session, a tool
designed to teach us how to use our stories and values to motivate and inspire
others into action. Following the training, three young professionals were
selected to share with the full assembly their incredible stories of growing up
in small rural towns, leaving to attend college or pursue other opportunities,
but ultimately deciding to return and be a catalyst for change:
First, Andrea Salina spoke of how
she returned to her small mining ghost town in North Central, West Virginia after
seven years in the eastern mountains. In spite of blight, unusable land, and
crumbling infrastructure, she seized the opportunity to return home because she
wanted to be able to raise her young daughter in her close knit town with the
support system of family and friends. "The challenge," she said, "lies in how
to revitalize the tangible community as well as the pride and spirit of community, both of which were lost
when the local mine closed in 1985." Now in the recent wake of Patriot Coal
Company's bankruptcy, "not only has the coal industry taken away clean water,
healthy soil, and community morale, it has now further iced the cake by
stripping away the benefits of those who dedicated their lives to the coal
mines." Andrea is staying to fight, and is forming a grassroots organizing
group to change the bankruptcy laws because, "the unions, employees, and their
families should not have to fight this battle alone, but together we can make a
difference."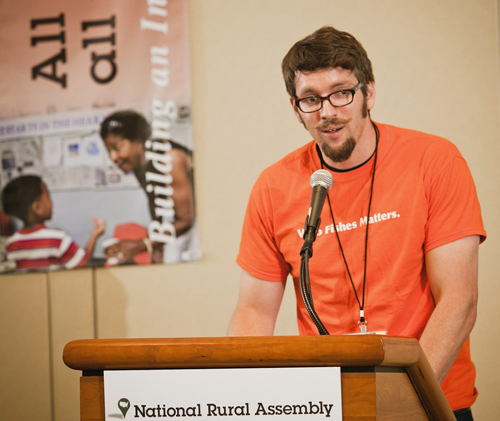 Next, Brett Tully told the story
of growing up in a family with a long history of fishing, but even as a young
boy his father discouraged him from following in their footsteps. "Collectively
we have been told this story that our way of life doesn't matter", Brett said,
"so I had a choice, I could leave this tradition that began with my great
grandfather, passed onto my grandfather and then my dad. This tradition of
independence, hard work, feeding people, a tradition of stewardship and taking
care of the ocean, this thing that has nourished our souls and community and my
family for so long. I could choose to leave that, or enter what I was being
told is a dying way of life." Brett did leave, only to discover that his story
is not unique; the same types of policies that are displacing his family of
fishermen are also displacing millions of others around the world. He decided
to return and fight to ensure families like his aren't forced to remove
themselves from their home and their land and their rural communities. Now with
the Northwest Atlantic Marine Alliance, he said, "we are working right now to
transform coastal rural communities and fisheries and our seafood industry, and
we are bringing a new vision of a triple bottom line where we do not have to
pin the environment vs. jobs, and we don't have to force small scale fishermen
to make the choice of either scale up or get out. We are bringing a vision
where food producers get paid a fair price and a vision where no matter what
the income of your family you can have access to local, healthy and culturally
appropriate food."
Last to tell her story was Devan
Grote, a young woman from southwestern Pennsylvania. While her father and the
four generations before him were coal miners, Devan wanted to be a
businesswoman like her mother and her mother's father who came from a long line
of family agriculture businesses. She chose a college far from her home for its
probability to take her big places, where many of the students came from
Boston, New York, and DC. By junior year she had landed an interview at the top
of the Chrysler building, and it was there that she said, "I went from wanting
to be in a place where I couldn't even sit down to form a thought, to wanting
to go home where I suddenly realized my thoughts could create a new place."
Devon returned to rural America and started the Fayette young professional's
network because, "preventing brain drain is not about keeping our kids in their
small towns, it's about encouraging them to go off and gain knowledge and then
giving them the desire to come back as owners of their rural communities who
feel a responsibility to make it a better place."
Creating stable and sustainable
job opportunities is a key roadblock to rural youth retention, and it is not a
point I am trying to underemphasize. Yet
an often overlooked factor is youth's perception
of their rural community's unique assets and opportunities, and a deeper
understanding of the priorities that can ultimately guide their decisions to
return or stay. While "getting out" is a powerful force almost everyone
experiences at some point, there also exists the irreplaceable understanding of
and connection to the place we grew up, and harnessing that can be an equally
powerful motivator to return. Just prior
to these three stories, Amy Sterndale from the Carsey Institute at the
University of New Hampshire addressed this issue and presented data from a study
of Coös County's 2009 High School Class
that found "76 percent rate leaving Coös County
as highly or moderately important; however, 93
percent also report living close to family as highly or moderately
important, suggesting conflicted priorities." A
related study
found that youths who perceived less educational and occupational opportunities
reported less confidence that they will finish high school and college,
suggesting communities can have a positive impact on youth futures, and
potentially strengthen their appreciation for the community, by targeting
educational and job opportunities for teens and helping them connect to
existing opportunities.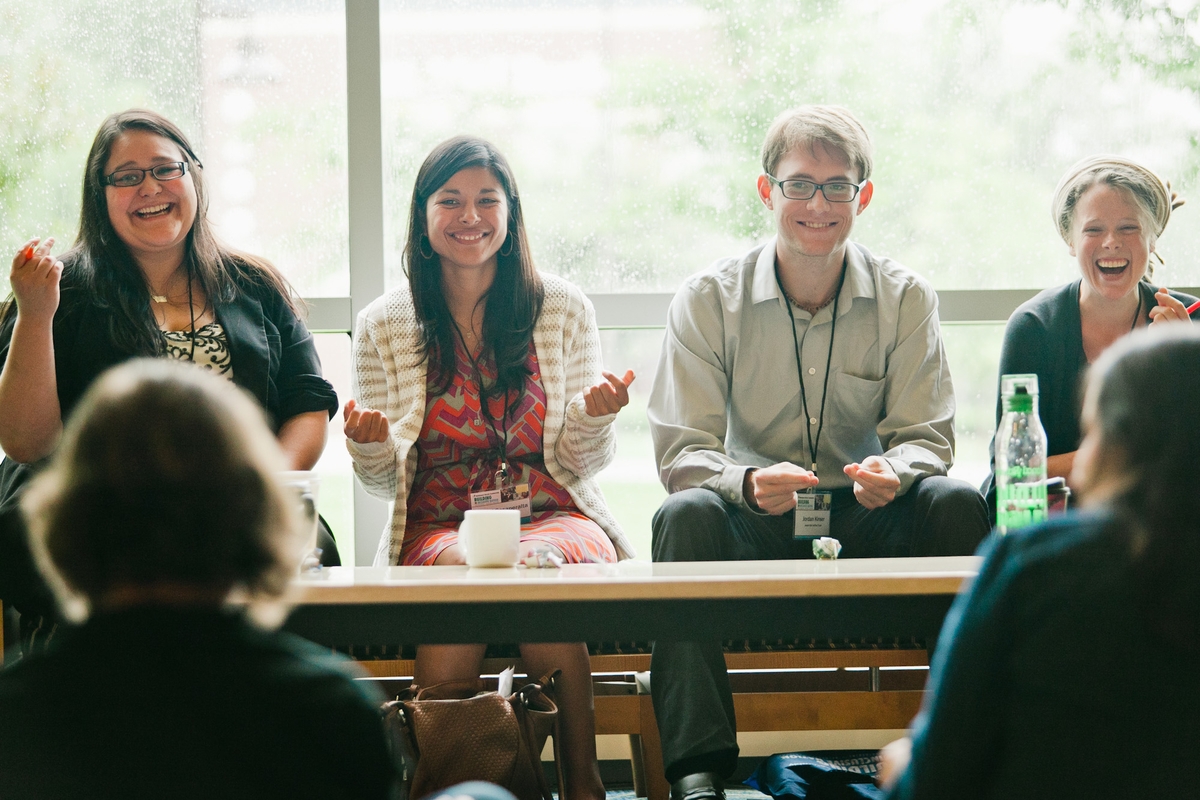 After my college graduation I did
choose to return home, and contrary to what I had anticipated I spent the
summer wrangling youth at a summer camp for kids from my community and a few of
the neighboring towns. That summer was transformational; I renewed my respect
for my own rural roots, reestablished a connection with my family and friends,
and established a new connection to the youth from the area. Instead of judging
my return as a sign of failure as I had feared, my community valued my skills
and experience. At the end of the summer
I did not return to work abroad as I had intended, but I began as a VISTA with
the NeighborWorks America Rural Initiative in Boston where I am now based.
While I did leave my hometown, I no longer consider this a source of pride. Rather, through my work with the Rural
Initiative I am proud and inspired to be engaged with a network of innovative
and resilient rural organizations across the country that are not only solving
fundamental challenges in their communities through housing and infrastructure
development, but are also creating new and sustainable economic opportunities
that represent the voices and interests of the local residents.