Rural leaders are invited to join the Climate Dialogues Webinar on November 12 at 4:30 ET.
This webinar is geared toward rural leaders, organizers, and community stakeholders who are looking for a process to engage their communities in conversations about climate change.
Hosted by Assembly Steering Committee member Institute for Agriculture and Trade Policy (IATP), the Rural Climate Dialogues are part of an effort to spur rural leadership and build resiliency in the face of extreme weather conditions and a changing climate.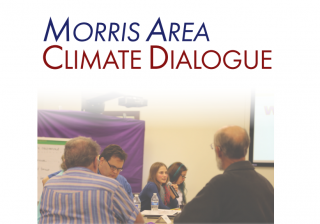 This webinar will provide an overview of the first Rural Climate Dialogue in Morris, Minnesota, focusing on the process, outcomes, follow-up, and a participant's perspective.
Wednesday, Nov. 12
3:30pm CST/4:30pm EST
IATP also manages the Rural Climate Network, which offers support, ideas, and action to make rural America more resilient to climate change.
For more information about the webinar and the network, email Anna Claussen or Tara Ritter.