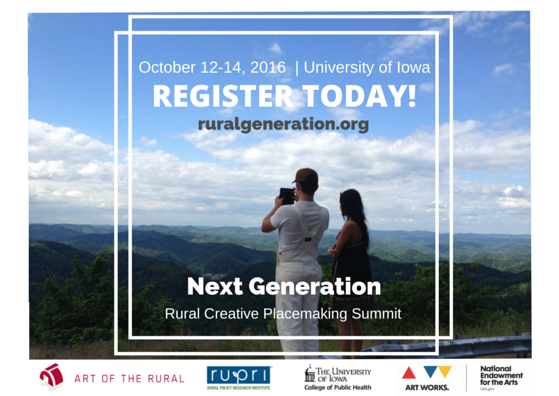 Registration is open for Next Generation Rural's Creative Placemaking Summit taking place at the University of Iowa on October 12-14, 2016. The summit seeks to enhance cross-sector collaboration, elevate intercultural perspectives within the field, and build policy presence for deeper consideration of rural creative placemaking.
This gathering will share reflections from Next Generation Regional Network members, connect lessons across geographies, and build deeper cross-sector collaborations. Together, we will present a sustained argument for the centrality of rural creative placemaking – as a field, and as a strategy for development and community sustainability.
The spirit of this Summit is to bring people together to build strong relationships, share their work, and promote collaboration. Through plenary & breakout sessions, performances, demonstrations, and workshops, the Summit will add new perspectives and disciplines to the conversation in new ways that encourage deeper levels of engagement with rural culture and community.
For more information on the summit, please visit:
To register, visit: https://form.jotform.com/61895753017160