** If you are willing to share your contact info with other participants, please add it here. **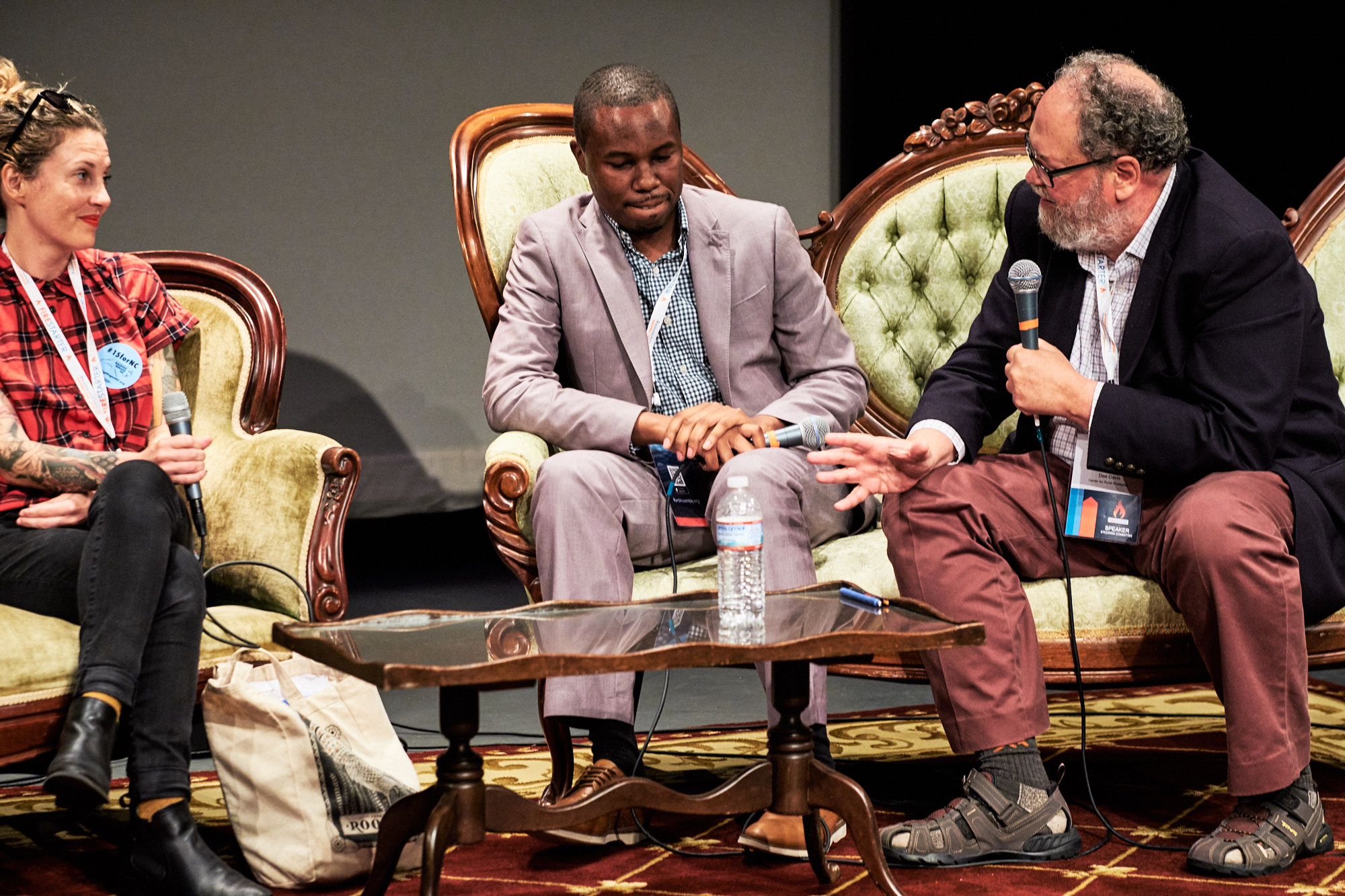 More videos from this event are available here.
Overview
The 2018 National Rural Assembly was held on May 21-23, 2018. More than 175 rural practitioners and advocates from 35 states attended. The focus of this meeting was how we build a more inclusive nation, viewed through a lens of civic courage.
Where
This event was held at the Durham Arts Council in downtown Durham, NC. Attendees stayed at the 21c Museum Hotel, a multi-venue contemporary art museum and a full-service boutique hotel.
Agenda
The agenda for this event was as follows.
Monday, May 21, 2018
Arrivals
1:00 – Registration opens (at Durham Arts Council)
12:30-4:30 – Making a Commitment to Rural Philanthropy – An Afternoon of Strategic Insights – by invitation only
Location: MDC, Inc., 307 W. Main St., Durham, NC
3:00-5:00 – Illustrated Journalism workshop with Wendy MacNaughton (optional; additional cost $35)
Location: Durham Arts Council
6:00-8:00 – Evening reception
Location: Durham Fruit & Produce Co.
Dinner on your own
Tuesday, May 22, 2018
7:30-8:15 – Breakfast and registration (at Durham Arts Council)
8:15-8:30 – Opening welcome
Robb Webb, Director of Rural Church Program Area, The Duke Endowment
Napoleon Wallace, Deputy Secretary of Rural Economic Development, North Carolina Department of Commerce
8:30-9:30 – Firestarter talks

Anita Earls, Founder, Southern Coalition for Social Justice
Ashley Hanson, Founder, Public Transformation Project
Magaly Licolli, Executive Director, Northwest Arkansas Workers Justice Center
Joe Marshall, Founder and Executive Director, Warrior Institute
Diana Oestreich, Key Relationships Manager, Preemptive Love Coalition
Liz Shaw, Founder, Citizens Connectivity Committee
David Toland, CEO, Thrive Allen County

9:30-10:45 – Standing on Their Shoulders
We are not without wisdom and resources as we imagine a more sustainable and just future for rural communities. As we work to build power in small towns and on reservations, there are playbooks from which to draw lessons and inspiration. Over the past twenty-five years, leaders in the fields of rural community development, housing, philanthropy, and environmental justice have labored for better systems and more inclusive policies. On this stage, we ask them to remind us where we've been and offer candid wisdom about where we are heading.
Produced by: Aspen Institute Community Strategies Group
Janet Topolsky, Director, Community Strategies Group (moderator)
Anne Kubisch, President, The Ford Family Foundation
Brian Dabson, Research Fellow, School of Government, University of North Carolina
Sherry Salway Black, Chairperson, First Peoples Fund
Connie Stewart, Executive Director, California Center for Rural Policy at Humboldt State University

10:45-11:00 – Break

11:00-12:00 – Breakout session #1

Talk Back to Firestarter Speakers
The New Girls Club: Womxn Shaping Rural Futures, produced by Rural Arts Weekly and Springboard for the Arts
What Does it Mean to be a Good Citizen? produced by New Voice Strategies

noon-1:00 – Lunch
1:00-2:15 – Building Civic Courage
We find ourselves in the midst of a critical cultural and political moment where we must have hard conversations about how we achieve equity and inclusion in communities bearing the brunt of violence, poverty, and extreme weather. How do we reckon with overall rural marginalization while at the same time acknowledging inequities within our own communities? On this stage, we offer a conversation among rural organizers and activists who are courageously working for justice for communities within communities.
Produced by: YouthBuild USA Rural & Tribal Initiative
Kim Phinney, Vice President of Program Design, YouthBuild USA
Marlene Chavez, Colonias Policy Analyst/Educator, Texas Rio Grande Legal Aid
Anna Clausen, Nathan Cummings Foundation Fellow
Abraham Diaz, Education Specialist, La Union del Pueblo Entero
Oleta Garrett Fitzgerald, Director, Southern Regional Office, Children's Defense Fund
Maureen Holland, Owner, Holland & Associates PC
2:30-3:30 – Breakout session #2

Voting Rights in Rural America, produced by the Daily Yonder
Rural Broadband in Our Sights, produced by Rural Broadband Policy Group
Live Recording of Daily Yonder Podcast, produced by the Center for Rural Strategies
Building Civic Courage: The Conversation Continues, produced by YouthBuild USA

3:30-3:45 – Break
3:45-5:00 – New Connections
The next generation of leaders is putting down roots across rural America. Some are returning to their hometowns and some are looking for community in the countryside. They are committed to creating the future they want to see, building upon the momentum of the creative placemaking movement and the emergence of new economies that support more inclusive communities and a richer quality of life. On this stage, we'll hear how these leaders make connections across diverse cultures and walks of life to forward the future of their rural places.
Produced by: Art of the Rural

David Simas, CEO, Obama Foundation (moderator)
Michele Anderson, Rural Program Director, Springboard for the Arts
Tim Lampkin, CEO, Higher Purpose Co.
Magaly Licolli, Executive Director, Northwest Arkansas Workers' Justice Center
Nevada Littlewolf , President and CEO, Tiwahe Foundation

5:00 – Adjourn
6:00-8:00 – Reception at Bull McCabes Irish Pub
Dinner on your own
Wednesday, May 23
7:30-8:15 – Breakfast (at Durham Arts Council)
8:15-8:30 – Welcome back
8:30 – 9:45 – A Dialogue with Reverend Jennifer Bailey and Ruby Sales
9:45-10:00 – Break
10:00-11:00 – Faith Communities Building a More Inclusive Nation
Faith organizations and churches have long served as anchor institutions in rural communities. Historically, they have played key roles as hubs of service and as incubators of organizing for social justice, from labor movements to civil rights. Today, they continue to be on the front lines of community transformation to build a better world for all persons. Faith communities work together with other stakeholders to address the root causes of society's most difficult challenges, and they organize resistance to the dehumanization of immigrants, people of color, and other vulnerable populations. On this stage, we'll hear from rural leaders who are engaged in collaborations that build equity and foster inclusion while offering healing, hope and development for all.
Produced by: The Duke Endowment

Kristen Richardson-Frick, Associate Director, Rural Church, The Duke Endowment (moderator)
LaShauna Austria, Interim Executive Director, Benevolence Farm and Pastor, First Congregational United Church of Christ
Jason Gray, Senior Policy Fellow, NC Rural Center
Michelle Osborne, Come to the Table Program Manager for Faith-Based and Community Partnerships, Rural Advancement Foundation International-USA

11:00 – Final remarks and adjournment
Firestarters
We ignited the 2018 National Rural Assembly with our firestarters – committed citizens who are modeling for the nation how we mend and strengthen the social and civic fabric of our country.
Offering up their personal stories, they inspired and challenged us to examine our own efforts towards achieving a more just and sustainable future, because building an inclusive nation will require all of us – from those traveling the country offering up their talents to create original, site specific musicals that address community tensions to those running for office determined to transform the policies and executive orders that are being carried out on the backs of rural, and on the backs of race and poverty. 

Firestarter speakers included:
Anita Earls, Founder, Southern Coalition for Social Justice
Ashley Hanson, Public Transformation Project
Magaly Licolli, Northwest Arkansas Workers' Justice Center
Joe Marshall, Founder and Executive Director, Warrior Institute
Diana Oestreich, Preemptive Love Coalition
Liz Shaw, Citizens Connectivity Committee
David Toland, CEO, Thrive Allen County
More about our firestarters can be found here.
Support
This gathering has been generously supported by The Duke Endowment, and we were pleased to be able award a limited number of travel scholarships.
This gathering was also made possible through support from Mary Reynolds Babcock Foundation, Rockefeller Brothers Fund, Redwood Coast Rural Action, Carnegie Corporation of New York, and Media and Democracy Fund.
If your organization is interested in providing support for future events, please contact us.
Presenters and Facilitators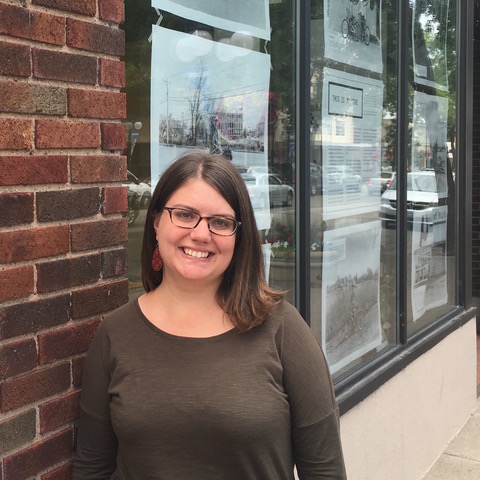 Michele Anderson is the Rural Program Director for Springboard for the Arts, a community and economic development organizations for artists based in St. Paul and Fergus Falls, Minnesota. In 2011, she launched Springboard's office in Fergus Falls, which, through programs like the Rural Arts and Culture Summit and the Hinge Arts Residency program, has become a hub of thought and action about arts-based community development and placemaking in rural settings. Michele has her B.A. in Music from Lewis and Clark College, and her M.A. in Cultural Sustainability from Goucher College, where she was awarded the inaugural Rory Turner Prize in Cultural Sustainability in 2014 for her creative nonfiction essay about Springboard's work in mobilizing artists to foster community interaction about the former Fergus Falls State Hospital. In 2015, Michele was selected by the Minnesota Council of Nonprofits for their Catalytic Leader Award. Michele serves on the advisory board for the Center for Small Towns at the University of Minnesota, and is the chair of the Fergus Falls Human Rights Commission. Michele is also a musician and a writer, and lives in Fergus Falls, MN with her husband, Spencer, and their two cats.
LaShauna Austria is an ordained faith leader with a fierce commitment to, and deep experience with, building strong, vibrant, and sustainable communities as well as a demonstrated record of collaborating with rural communities, faith and non faith based organizations to address race, justice and equity issues. She has a professional and personal passion for, and involvement with, a variety of racial equity organizations, initiatives and food systems in the surrounding area. LaShauna is the Interim Executive Director at Benevolence Farm, a reentry organization in Alamance County, NC and bo-vocational Pastor at First Congregational United Church of Christ.
Named one of "15 Faith Leaders to Watch" by the Center for American Progress, Rev. Jennifer Bailey is an ordained minister, public theologian, and emerging national leader in the multi-faith movement for justice. She is the founding executive director of the Faith Matters Network and a Fellow with the On Being Project. Jennifer comes to this work with nearly a decade of experience at nonprofits combatting intergenerational poverty. An Ashoka and Nathan Cummings Foundation Fellow, Jennifer earned degrees from Tufts University and Vanderbilt University Divinity School. She writes regularly for Sojourners and The Huffington Post. Rev. Bailey is an ordained itinerant elder in the African Methodist Episcopal Church.
Carol Blackmon is founder and President of C B Enterprises & Associates, Inc., a consulting firm that supports nonprofit organizational development, program development, and special project management.
Her professional experience includes serving as a former program officer with Foundation for the Mid-South; Executive Director of the Mississippi Legislative Black Caucus Foundation, Program and Executive Coach with the W. K. Kellogg Foundation's Mid-South Delta Initiative, Program Manager for the Mid South African American Philanthropy Program, Senior Consultant with the Southern Rural Black Women's Initiative and Managing Consultant for the Deep South Delta Consortium. Carol is also a former rural technical assistance coach with YouthBuild USA.
She is a founding board member of the National Center for Black Philanthropy, Greater Jackson Community Foundation, and Mississippi Housing Partnership. She is also grants committee chair for Rural Education and Leadership Foundation and a former board member of the Association of Black Foundation Executives.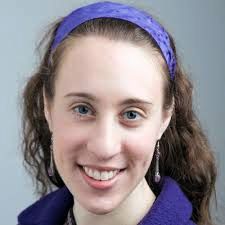 Allie Bohm is Policy Counsel at Public Knowledge, focusing on government affairs work in key issue areas including broadband policy, privacy, artificial intelligence, and other tech policy initiatives. Prior to law school, Allie was the Advocacy & Policy Strategist at the American Civil Liberties Union (ACLU) covering state policy nationwide related to speech, privacy, and technology, among other issues. During law school, she was a Legal Fellow for Senator Durbin on the Senate Judiciary Committee and worked for the Office of the White House Counsel during the Obama Administration, the Office of Equal Employment Opportunity Commissioner Charlotte Burrows, the National Women's Law Center, and the National Partnership for Women and Families. She began her career as a Legislative Assistant at the ACLU.
Allie earned her J.D., magna cum laude, from Georgetown University Law Center and her B.A., magna cum laude, from Tufts University where she was a Citizenship and Public Service Scholar. She is a member of the New York Bar.
Amy Brooks, Program Director and Dramaturg for Roadside Theater, is a 5th-generation West Virginian who returned to Appalachia just before the 2016 election cycle. Through her work in community-based theater for social change she explores the confluence of dramatic narrative ("What is the story we choose to tell onstage?") and public narrative ("What is the story we are called upon to tell about ourselves, our community, and our future?") in intercultural rural-urban performance. Amy holds a BFA in acting from West Virginia University and an MFA in dramaturgy from the University of Massachusetts Amherst, where she co-founded and produced the first two seasons of the UMass New Play Lab. She is the former Humanities Director of the Contemporary American Theater Festival and co-creator of @RuralArtsWeekly, a Twitter forum for policy and practice in rural creative placemaking.
Marlene Guerrero Chavez is the Colonias Policy Analyst/Educator for Texas Rio Grande Legal Aid where she provides policy and legal assistance on legal matters pertaining to real property, wills and estates, employment and environmental justice to residents who live in "colonias," unincorporated rural subdivisions along the Texas/Mexico border.
Marlene was a Sustain US non-sanction delegate for the 51st Session of the United Nations Commission for Social Development where she help pass a youth resolution and co-wrote the Sustain US (CSocD) oral statement that focused on the quality of education, international migration and unemployment. In 2015, she embarked on a 283-mile walk from North Carolina to DC, walking 80 miles for healthcare reform, alongside activists across the nation. She was also a recipient of the Proyecto Azteca Community Advocacy Award.
Marlene studied Spanish Language and Literature at the Universidad de San Francisco de Quito in Ecuador and graduated from Kalamazoo College where she received a BA in Anthropology/Sociology with a concentration in Media Studies. She currently resides with her husband and 7 year-old boy in Weslaco, TX.
Anna Claussen is a current Fellow with the Nathan Cummings Foundation, a multigenerational family foundation focused on finding solutions to two of the most challenging problems of our time – the climate crisis and growing inequality. On Fellowship her work will leverage cultural narratives, transformative stories, and immersive experiences to shift the way people think and feel about climate change, and about each other; empower rural communities to engage in efforts to mitigate and adapt to climate change; and advance inclusive climate change policies. Anna is a current Advisor, and former Director of Rural Strategies, at the Institute for Agriculture and Trade Policy, which works locally and globally at the intersection of policy and practice to ensure fair and sustainable food, farm and trade systems. A landscape architect by training, Anna bridges years of practice in design and planning with a life deeply rooted on her family's active Minnesota farm.
Brian Dabson joined the School of Government in July 2016 after having retired from the University of Missouri's Harry S. Truman School of Public Affairs, where he served as Associate Dean, Research Professor, and Director of the Institute of Public Policy. His previous positions include President of the Rural Policy Research Institute and President of Corporation for Enterprise Development.
Prior to coming to the United States in 1992, he was director of the Center for Employment Initiatives, a UK-based research and technical assistance nonprofit that worked across Europe on community and economic development programs, and in a number of local government planning and economic development positions in Liverpool and Glasgow.
He was president of the Consortium of University Pubic Service Organizations (2014–2015), a member of the Community Development Advisory Council of the Federal Reserve Bank of St. Louis (2007–2012), member of the National Steering Committee of the National Rural Assembly (2007–2011), and President of the Social Innovations Forum, Organization for Economic Cooperation and Development (2000–2003).
Dabson has a master's degree in social science from University of Birmingham Institute of Local Government Studies (Birmingham, England, UK) and an undergraduate degree in town planning from Oxford Brookes University (Oxford, England, UK). He was a chartered town planner and member of the Royal Town Planning Institute.
Dee Davis is the founder and president of the Center for Rural Strategies. Dee has helped design and lead national public information campaigns on topics as diverse as commercial television programming and federal banking policy.
Dee began his media career in 1973 as a trainee at Appalshop, an arts and cultural center devoted to exploring Appalachian life and social issues in Whitesburg, Kentucky. As Appalshop's executive producer, the organization created more than 50 public TV documentaries, established a media training program for Appalachian youth, and launched initiatives that use media as a strategic tool in organization and development.
Dee is the chair of the National Rural Assembly steering committee; he is a member of the Rural Advisory Committee of the Local Initiatives Support Corporation, Fund for Innovative Television, and Feral Arts of Brisbane, Australia. He is also a member of the Institute for Rural Journalism's national advisory board as well as the advisory board of the Rural Policy Research Institute. Dee is also the former Chair of the board of directors of Mary Reynolds Babcock Foundation.
Cheryl DeBerry serves as the rural broadband project coordinator for Garrett County Economic Development in the Appalachian mountains of far western Maryland. In her capacity, she has managed three Appalachian Regional Commission grants which fund portions of the project. She also coordinates county government interactions with the private partner, who uses television whitespace and other unlicensed spectrum to serve remote businesses and residences in the rural county.
She brings her more than 14 years' experience in rural economic development at Garrett County Government. In this capacity, she has provided assistance to numerous new and expanding small businesses, designed and executed digital, web and print marketing and promotions for the local food movement, and represented western Maryland on two statewide governor-appointed commissions.
Abraham Diaz was born in the city of Monterrey, Nuevo Leon, Mexico. At a very young age, his family decided to migrate to the United States to be able to provide him his siblings a better educational opportunity and life.
When he was told that undocumented students were not eligible to attend college, Abraham was determined to find a way. After receiving his work permit in 2012, he continued from high school to college. He was able to graduate at the top of his high school class with honors and went on to study at The University of Texas Rio Grande Valley, where he majored in Mexican American Studies and History. While in college, Abraham found out about organizing and fighting for immigrant's rights when he joined Minority Affairs Council, an immigrant-student organization, where he felt reflected among the stories of over the 950 undocumented students on campus. Through this organization, he was able to speak on behalf of immigrant students on campus and find resources to help them succeed. Abraham continues his advocacy work now as the education specialist at La Union del Pueblo Entero, an organization that focuses on various issues such as fighting deportations, providing immigration and social services, and organizing for infrastructure needs in colonias in the Rio Grande Valley.
Anita Earls is a civil rights attorney with 30 years' experience litigating voting rights and other civil rights cases in partnership with community-based organizations. She was the founder and Executive Director of the Southern Coalition for Social Justice, a non-profit legal advocacy organization in Durham, North Carolina. She left that position in January 2018 to run for a seat on the North Carolina Supreme Court.
Previously Anita served on the North Carolina State Board of Elections and the North Carolina Equal Access to Justice Commission; was appointed as the Deputy Assistant Attorney General to President Clinton in the Civil Rights Division of the U.S. Department of Justice; directed the Voting Rights Project at the Lawyers' Committee for Civil Rights Under Law; had a 10 year career in private practice litigating voting rights, police misconduct, school desegregation, and employment discrimination cases; and continues to give back to her community as adjunct faculty.
Oleta Garrett Fitzgerald has devoted her life to the pursuit of justice and equality for all. As Director of the Children's Defense Fund's Southern Regional Office, Oleta has placed special emphasis on education, including early childhood education, children's healthcare access, and breaking the insidious cradle to prison pipeline pattern, which is all too prevalent in communities of color. Oleta is the Regional Administrator for the Southern Rural Black Women's Initiative for Economic & Social Justice (SRBWI). SRBWI operates in 77 counties across the Black Belts of Alabama, Southwest Georgia and the Mississippi Delta. She is also the principal for an innovative project, the Supporting Partnerships to Assure Ready Kids (SPARK) Initiative. In 1993, Oleta became President Clinton's appointee as White House Liaison and Executive Assistant to Secretary of Agriculture Mike Espy. Later, she was named the Department's Director of Intergovernmental Affairs.
Ms. Fitzgerald serves on the boards of the Mississippi Children's Museum, The Center for Education Innovation, Mississippi Low Income Child Care Initiative, Operation Shoestring, and Mississippi Head Start Association; is a member of the Stennis Institute of Government advisory committee and a member of the Southern Rural Black Women's Initiative Executive Committee and on the advisory boards for Excel by 5, Philander Smith College Justice Project, and Mississippi Building Blocks. She contributed to the Covenant with Black America introduced by Tavis Smiley, and numerous news stories by the New York Times, Huffington Post, the BBC, National Public Radio, Commercial Appeal and NBC National and local affiliates as well as other broadcast and print media.
Matthew Fluharty is a visual artist, writer, and field-based researcher living in Winona, Minnesota, a town placed along the Mississippi River. He is the Executive Director of Art of the Rural and its Outpost community studio in Winona, a member of M12 Studio, and he serves on the Board of Directors of Common Field. Matthew's poetry and essays have been widely published in the US and abroad. His essay "Burn the Maps," considering contemporary rural-based art and cultural practice, was commissioned Walker Art Center for their convening Superscript: Arts Journalism and Criticism in a Digital Age. His collaborations with M12 Studio have recently been featured at the Santa Fe Art Institute and the Iowa State Fair, while his multidisciplinary collaboration with Jesse Vogler in the American Bottom region of the Mississippi River was recently the subject of an exhibition at Central Features in Albuquerque and featured in Art in America.
Jason Gray is the Senior Fellow for Research and Policy at the NC Rural Center. His career has been dedicated to raising up and advancing the interests of rural communities. As senior fellow at the Rural Center, he brings his experience linking research and over-the-horizon policy and program development to assist Center initiatives.
This is his "second tour-of-duty" at the Rural Center: From 2009 to 2013, he was director of the Office of Research and Innovation, and managed a diverse portfolio of research and grant-making projects. As a grant maker, Jason oversaw the strategic development and implementation of nearly $9 million of economic innovation grants for reinvigorating North Carolina's manufacturing sector, alternative energy development, and sustainable tourism industry.

From 2013 through mid-2015, Jason was a consultant to community foundations across the nation seeking to better link philanthropy to community development. From 1997 to 2009, he was policy director at the Southern Rural Development Initiative, where he worked on rural philanthropy, tracking the flow of federal funding in rural America, and other projects. He started his career working on rural water policy issues at the Virginia Water Project and participated in a number of state and federal policy and regulatory negotiations.
Ashley Hanson is a social practice & theater artist, community organizer & advocate for arts in rural areas. She is the co-founder of PlaceBase Productions, a community-driven theater company that creates original musical productions celebrating small towns & the co-founder of Curious Incidents, an immersive event collaborative. After the 2016 election, she traveled across the country in a little yellow school bus interviewing artists in rural communities as a multi-media art project called Public Transformation. She is the Director of the Small Town CAIR (City Artist in Residence) Program in Granite Falls, MN & she is also a musician, whose recent album – The Kirkbride Sessions – explores the 'underbelly of ruralness.' She holds an MA in Applied Theater from the University of Manchester (UK) with an emphasis on the role of arts in rural community development. She believes strongly in the power of people, places, play and exclamation points!
Maureen Holland graduated from Vermont Law School, cum laude. She is licensed to practice law in Tennessee and Vermont state courts, the U.S. District Court for Western Tennessee, the Fifth and Sixth U.S. Circuit Courts of Appeal, and the United States Supreme Court. Following law school Holland was a judicial law clerk for four State of Vermont trial courts. Later Holland was the first legal counsel to the Vermont Water Resources Board (1990-91) and then Interim Executive Officer for the Board (October 1990-May 1991). Once in Memphis, she became the first Senior Federal Judicial Law Clerk to the Honorable Jon Phipps McCalla (1992-1995), then held an Associate position at Wolff Ardis (1995-1997). She is now Senior Attorney and President of Holland & Associates, PC.
Her firm represents employees/former employees in employment matters, including employment discrimination, severance agreements, non-compete agreements, breach of contract, and other employment-related issues. She negotiates, litigates, and appears before state and federal courts and a number of administrative bodies including the Memphis Civil Service Commission, State of Tennessee Civil Service, EEOC, EEOC Federal Sector Mediation and Hearings, AAA Arbitrations, FMCS (Federal) Arbitrations. Ms. Holland practices holistic law, which places an emphasis on problem-solving. Ms. Holland also sits regularly as Special Judge in General Sessions Court for Shelby County. She is the former Chair of both the Memphis Bar Association Labor & Employment Law Section and Wellness Committee, and recently sat on the Board for the Memphis Bar Association. Maureen also gained notoriety as one of the attorneys for the Tennessee plaintiffs in Obergefell v. Hodges, the United States Supreme Court case that gained recognition for same-sex married couples. She has lectured locally and nationally on this case.
Whitney Kimball Coe is director of National Programs for the Center for Rural Strategies. She began working with the Center as a consultant to the Community Philanthropy Initiative and now focuses on national strategies for strengthening and amplifying the work of rural advocates and stakeholders. Coe also directs the work of the National Rural Assembly, an event which brings together rural leaders and advocates from every region with national public- interest organizations, funders, and policymakers in ways that inform public policy and private investment in rural people and places. In 2017, she was a featured speaker at the inaugural summit of the Obama Foundation and a guest on the radio program "On Being" with Krista Tippett. Her focus on building civic courage in communities is directly tied to a practice of participation in her hometown of Athens, Tennessee, where she lives with her husband Matt and daughters, Lucy and Susannah. Coe has a MA in Appalachian studies from Appalachian State University in North Carolina and an undergraduate degree in religion and philosophy from Queens University of Charlotte.
Anne Kubisch joined The Ford Family Foundation in 2013 as its second president. She came to the Foundation after 19 years at The Aspen Institute (New York), an international non-profit leadership development and policy studies organization.
She founded and served as director of the Aspen Roundtable on Community Change, a national resource center that advises policymakers, funders and practitioners on strategies for improving outcomes for low-income children, families and communities. From 1977 to 1993, Anne worked in the international development field on poverty, health and economic vitality programs in Latin America and Africa.
Anne holds a master's degree from the Woodrow Wilson School of Public and International Affairs at Princeton University and a bachelor of arts degree in English from Tufts University.
She is married to Mark Montgomery, professor of economics at Stony Brook University, NY, and senior research associate at The Population Council, NY. They have two children, Marina and Nicholas.
Tim Lampkin is the CEO of Higher Purpose Co., a nonprofit social impact agency based in Clarksdale, Mississippi. He helps build community wealth in underserved areas across the Northwest Region of the Mississippi Delta by focusing on small business development, strategic real estate investing, and social enterprise initiatives. Tim has advised and engaged with the Center for Rural Strategies, Project for Public Spaces, Citizens' Institute on Rural Design, ArtPlace America, and the Next Generation Project. He previously worked as a Community Development Officer for Southern Bancorp Community Partners (SBCP) where he helped secure over a million dollars for various community projects in Coahoma County. Prior to his role at SBCP, he worked with the Debt Education for Business Transformation and Sustainability (DEBTS) Program at Delta State University to support entrepreneurs.
He has a B.S. in Business Administration from Mississippi Valley State University, MBA from Delta State University, and a M.S. in Organizational Performance from Bellevue University. Tim has completed executive education at Harvard Kennedy School of Government and is currently finishing his Doctorate of Education at the University of Arkansas. He was included on Magic Johnson's 32 under 32 list in 2016, and has been featured by the Daily Yonder and the Huffington Post. Tim was selected in April 2017 to serve on the Federal Reserve Bank of St. Louis Community Development Advisory Council for three years and was recently named a 2018 BALLE Local Economy Fellow.
Magaly Licolli was born in Leon, Guanajuato, Mexico. She has been living in Arkansas for the past 13 years working closely with the immigrant community. Her special interest in labor led her to become more involved with poultry processing workers. In late 2015, Licolli became the Executive Director of the Northwest Arkansas Workers' Justice Center.
Licolli achieved an Arts and Science degree in 2013 at the Umiversity of Arkansas, and thanks to her artistic background and love for social justice, she's using art as a form of healing and empowerment; her passion and leadership working with immigrants are a key element to continue growing the organization to keep supporting workers' efforts in quest of dignity and respect in poultry plants.
Nevada Littlewolf, President & CEO, Tiwahe Foundation, is an experienced leader with over 20 years of experience working across sectors of community, government, non-profit and business. She has been key in developing several local and national leadership training programs for rural and tribal communities. She knows that our most challenging problems require our most creative minds for solutions. Her community engagement approach is based in the values of inclusion, trust and investment. Nevada is Vice-Chair of The Northland Foundation Board, Vice-Chair of The Women's Foundation of Minnesota Board, Secretary of ClearWay Minnesota and a member of Governor Dayton's Judicial Selection Commission. She is a citizen of Leech Lake Nation, Minnesota Chippewa Tribe. Her formal education includes Associate of Arts, Mesabi Range College and Bachelor's of Fine Arts, University of Minnesota Duluth. Nevada is a 2016 Bush Fellow.
Wendy MacNaughton is an award-winning, New York Times bestselling graphic journalist and illustrator whose books include Meanwhile in San Francisco (Chronicle), Salt Fat Acid Heat (Simon & Schuster), and The Gutsy Girl (Bloomsbury). Her work regularly appears in publications like The New York Times and California Sunday Magazine where she is a columnist. She is the co-founder of the organization Women Who Draw that seeks to increase visibility of women, women of color, and queer women in the professional arts.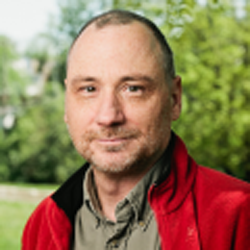 Tim Marema is editor of the Daily Yonder, a national rural news site, and a founding staff member of the Center for Rural Strategies, which publishes the site. He worked in daily newspapers in Chapel Hill and Durham before returning to his home region of Southern Appalachia. Tim is the former development director of Appalshop, the media arts center in Whitesburg, Ky. He holds a master's degree in journalism from the University of North Carolina at Chapel Hill and a B.A. from Berea College. He's married and has a son and a daughter who are in their last semester (he hopes) at the University of Tennessee and Davidson College, respectively.
Joe Marshall is the Founder and Executive Director of the Warrior Institute. Joe is Natinixwe (Hupa) and Karuk, and grew up on the Hoopa Tribal reservation. At Hoopa Valley High School, Joe excelled in academics and basketball earning a Gates Millennium Scholarship and staring on a team in 2000 that made it all the way to the state championship. While at Humboldt State University, Joe was awarded "Man of the Year" for the 2003-2004 academic year. After graduating from Humboldt State University with a teaching credential, he returned to the Valley to raise a family and teach at Hoopa Valley High School, where he coached boys' varsity basketball, taught PE, weight training, and is currently the Cultural Connections Teacher. Joe is a certified CrossFit instructor, whitewater guide, farmer, and all around great guy.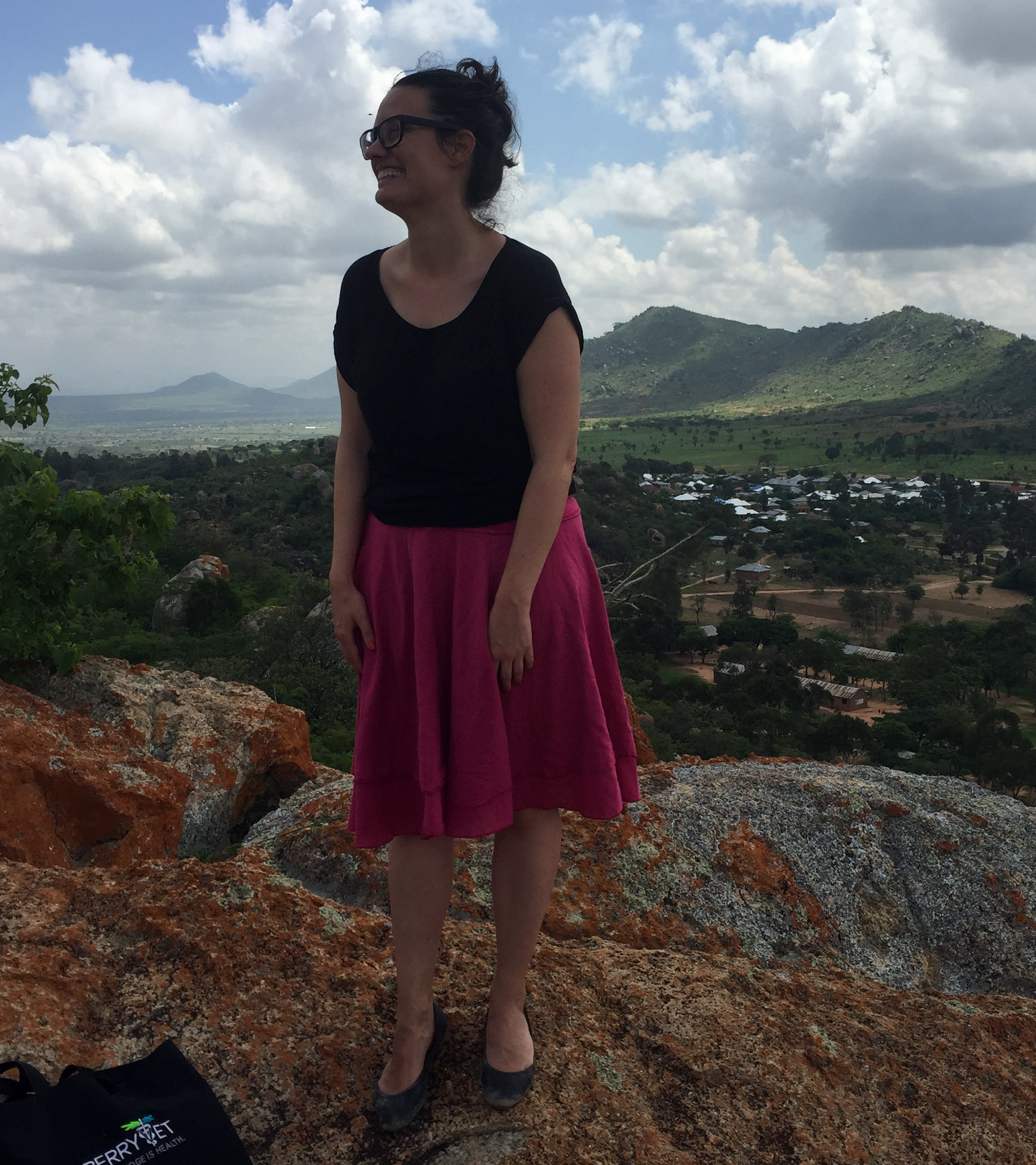 Pilar McKay is a rural arts and culture advocate based in rural Western New York. She co-founded Shake on the Lake, a professional theatre company focused on creative placemaking in rural communities, and Silver Lake Brewing Project in Perry, New York. She is one half of Rural Arts Weekly, a social media and digital literacy project for artists and art advocates. In addition to this work, she is the Associate Director at the Arts Council for Wyoming County, the New York State Council for the Arts Decentralization Grant Site and Arts Services Organization for Wyoming County. Pilar studied Rural Sociology and Applied Economics & Management at Cornell University (College of Agriculture and Life Sciences) and has a Ph.D. in Social Research Methodology at University of California, Los Angeles (College of Education & Information Sciences).
Christopher Mitchell is the Director of the Community Broadband Networks Initiative with the Institute for Local Self-Reliance (ILSR) in Minneapolis. Within his capacity at ILSR, he also serves as the policy director for Next Century Cities, a national collaboration of mayors and CIOs seeking universal access to fast, affordable, and reliable Internet connections.
On a day-to-day basis, Mitchell runs MuniNetworks.org, the comprehensive online clearinghouse of information about local government policies to improve Internet access. Their interactive community broadband network map tracks more than 500 such networks. He also hosts podcasts, including Community Broadband Bits and Building Local Power. He tweets at @communitynets.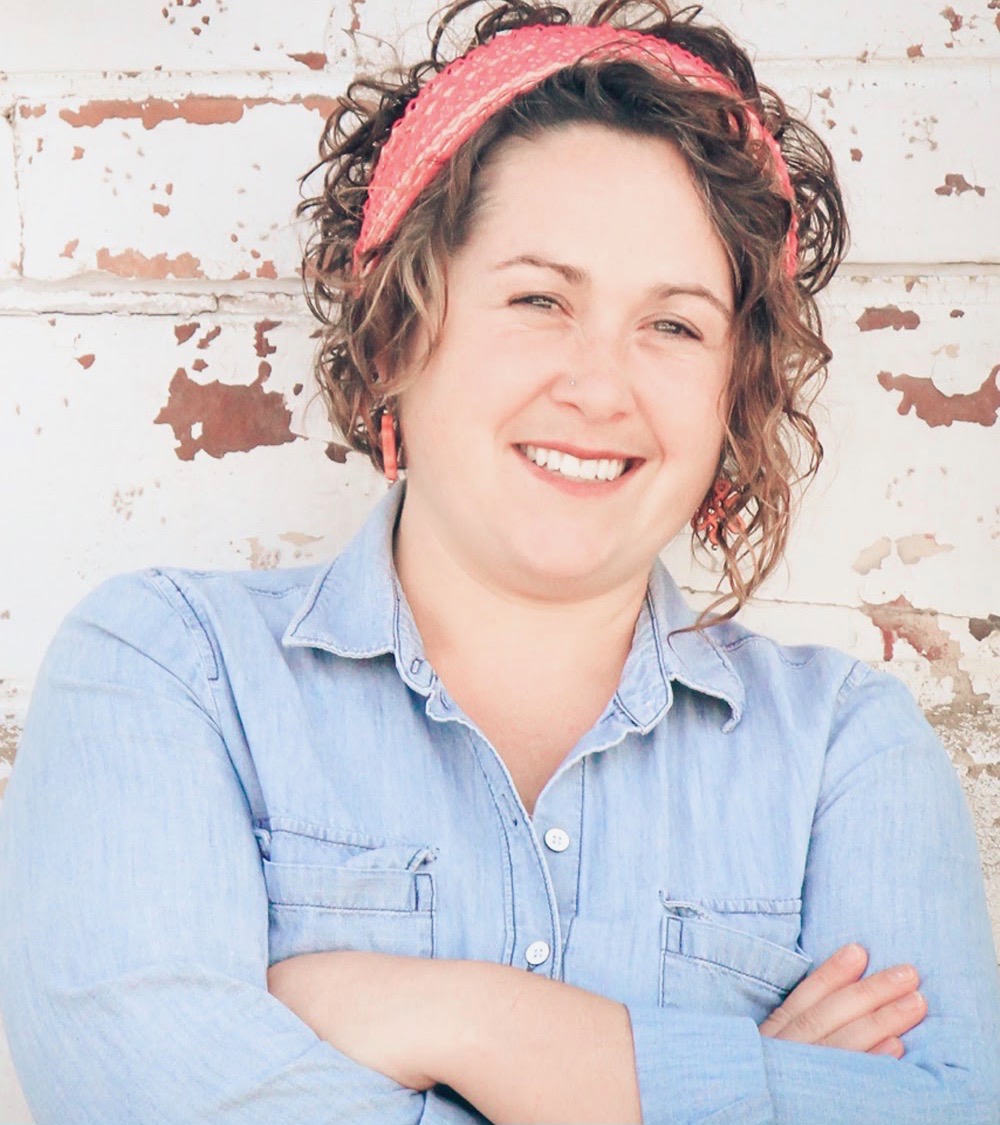 Diana Oestreich is no stranger to pain and the reality that our world desperately needs to be remade. As a former Iraq War Army Combat Medic and a sexual assault nurse examiner, Diana has committed her life to staring pain in the face and choosing to love anyway, to lean in, and to remake the world around her. Speaking across the country for Preemptive Love Coalition Diana is usually the one laughing when everyone else is trying not to.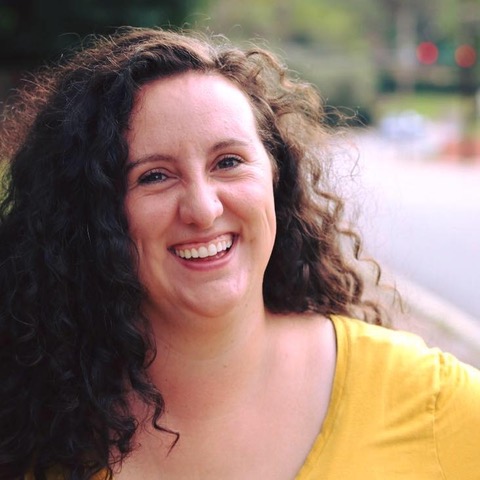 Michelle Osborne serves as the Come to the Table Program Manager for Faith-Based and Community Partnerships at the Rural Advancement Foundation International-USA. The CTTT program connects faith communities with other community leaders engaged in food access work to increase capacity and promote equity. Michelle earned a Master's of Divinity from Duke Divinity School and a Master's of Social Work from the UNC-CH School of Social Work, and has served in leadership positions in churches, nonprofit ministries, and community organizing groups.
Kim Phinney is the Vice President of Program Design for YouthBuild USA. In this position, she leads the overall design of program content and learning for YouthBuild USA and YouthBuild programs across the country. In addition, she works on a broad range of related policy issues. Kim joined YouthBuild USA in 2001 to design education and career pathways for rural and Native Opportunity Youth. She was previously the senior director of Rural and Native Initiatives, overseeing technical assistance and training to the national field of over 70 rural and Native YouthBuild programs.
The Racial Justice Alliance of Montpelier High School was founded over two years ago in response to specific and generalized racism directed towards students of color in the Montpelier Public School system. Since that time the group has worked to advocate for improved recognition and action steps for better conditions regarding unchecked privilege, implicit bias, and structural racism within the MPS school system. At the urging of the Racial Justice Alliance, the most visible commitment that the school district has taken is being the first (known) public high school in the nation to raise a Black Lives Matter Flag. The Racial Justice Alliance continues to be active both locally and beyond in advocating for cultural competence and racial justice in the public school system.
Kristen R. Richardson-Frick serves as Associate Director of the Rural Church program area of The Duke Endowment. She is an ordained clergyperson in the South Carolina Conference of the United Methodist Church, and joined the Endowment in June 2012 after serving as a pastor of churches for eleven years. Richardson-Frick holds both a BA and a BS degree from Wofford College, and a Master of Divinity degree from Duke University. In her work with the Endowment, Richardson-Frick focuses on building the capacity of rural congregations to engage their communities in new ways, fostering clergy health and effectiveness, and implementing summer literacy programs in rural Methodist churches. From her experiences as a pastor and a program officer, Kristen believes that rural congregations are uniquely called and positioned to work with community partners to change the world for good. She hopes that her work equips churches to do just that. Richardson-Frick resides in the Charlotte area with her husband John and her sons John Edward (13) and Tyoma (10).
Ruby Nell Sales is a nationally-recognized human-rights activist, public theologian, and social critic, whose articles and work appear in many journals, online sites, and books. Under the tutelage of Professor Jean Wiley, Sales joined the Student Nonviolent Coordinating Committee (SNCC) in the 1960's as a teenager at Tuskegee University and went to work as a student freedom fighter in Lowndes County, Alabama.
In August 1965, Sales, along with other SNCC workers, joined young people from Fort Deposit, Alabama, who organized a demonstration to protest the actions of the local White grocery store owners who had cheated their parents. The group was arrested and held in jail and then suddenly released. Jonathan Daniels, a White seminarian and freedom worker from Episcopal Divinity School in Cambridge, Massachusetts was assassinated as he pulled Sales out of the line of fire, when they attempted to enter Cash Grocery Store to buy sodas for other freedom workers who were released from jail. Tom Coleman also shot and deeply wounded Father Richard Morrisroe, a priest from Chicago. Despite threats of violence, Sales was determined to attend the trial of Daniels' murderer, Tom Coleman, and to testify on behalf of her slain colleague. Coleman was acquitted by a jury of all white peers.
As a social activist, Sales has served on many committees to further the work of racial, sexual, gender, and class reconciliation, education, and awareness, including the Steering Committee for International Women's Day and the President's Committee On Race. She was a founding member of Sage Magazine: A Scholarly Journal on Black Women and was featured in Broken Ground: A Film on Race Relations in the South. Sales has preached around the country and spoken at national conferences on race, class, gender, and reconciliation.
Presently, Sales serves as the founder and director of the SpiritHouse Project, a national nonprofit organization that uses the arts, research, education, action, and spirituality to bring diverse peoples together to work for racial, economic, and social justice, as well as for spiritual maturity.
Sherry Salway Black has worked for more than 40 years in American Indian issues at the American Indian Policy Review Commission; Indian Health Service, First Nations Development Institute, and with the National Congress of American Indians.
She currently serves on the boards of directors of the Johnson Scholarship Foundation, Prosperity Now (formerly CFED), and as chairperson for First Peoples Fund. She also serves on the board of trustees for the National Indian Child Welfare Association and advisory committee for the National Congress of American Indians' Policy Research Center. She has also served on the board of directors for the Hitachi Foundation; the board of governors for Honoring Contributions in the Governance of Tribal Nations of the Harvard Project on American Indian Economic Development; and the board of directors for the Council on Foundations. She was appointed by President Obama in 2011 to the President's Advisory Committee on Financial Capability and in 2013 to the President's Advisory Committee on Financial Capability for Young Americans.
She is Oglala Lakota and is originally from South Dakota.
A fifth generation Appalachian fiddler, Liz Shaw is known for her contributions to traditional music as a performer, teacher, and co-host of a nationally distributed public television series about American folk music. However, her secret life has been that of community organizer which landed her a spot on the Daily Show with Jon Stewart, and hosting John Oliver in her home for the taping. Liz has successfully fought corporal punishment in daycares and ill-advised nuclear waste dumps in North Carolina along with union busting legislation in Ohio. She also developed an award-winning program addressing food security in Athens County, Ohio. Liz founded the Citizen's Connectivity Committee, which hosted a nationally recognized broadband summit featuring FCC Commissioner Mignon Clyburn. She has been featured in articles, blogs and podcasts for her tenacious stance on bringing broadband to rural America. Liz lives with her husband Lynn near Athens, Ohio in a historic farmhouse where they like to fiddle on their front porch.
David Simas is the Chief Executive Officer of the Obama Foundation. A native of Taunton, Massachusetts, he was appointed Deputy Chief of Staff to Massachusetts Governor Deval Patrick in 2007. Simas then joined President Obama's administration in 2009 as a Deputy Assistant to the President, working with senior advisors David Axelrod and David Plouffe. In 2012, he served as Director of Opinion Research for President Obama's reelection campaign. Following the reelection, Simas returned to the White House as Assistant to the President and Director of the Office of Political Strategy and Outreach. Simas holds a B.A. in political science from Stonehill College and a J.D. from Boston College Law School. He serves on the national board of directors of OneGoal and lives in Chicago with his wife, Shauna, and their two daughters.
For the past 9 years, Connie Stewart has been Executive Director at the California Center for Rural Policy (CCRP) at Humboldt State University, a research center committed to informing policy, building community, and promoting the health and well-being of rural people and environments.
The Center works on a variety of issues including: health and human services access, cost and quality; broadband deployment, adoption and policy; wealth creation and economic development; food systems and food security; and data and evaluation services for community programs. It has a staff of 15 people.
Connie was honored to receive the 2017 Rural County Representatives of California President's Award, for her work to bring broadband to rural California communities. She also was honored with the 2014 "Nonprofit Leader Achievement Award" from the Northern California Association of Nonprofits and the 2014 "Innovations in Networking Award for Gigabit/Broadband Applications" from the Corporation for Education Network Initiatives in California.
Prior to joining CCRP, Connie was a Mayor and a member of the City Council in Arcata, California and worked for the California State Legislator as a Senior Field Representative.
Connie currently a member of Aspen Institute Community Strategies Group's Rural Development Innovation Group – a leadership group of seasoned rural economic development practitioners from across the country. She also serves on the Board of the Pacific Forest Trust, Redwood Acres Fairground, North Coast Health Improvement and Information Network (NCHIIN) and the Open Door Community Health Centers. She graduated in 1988 with a B.A. in speech communication.
David Toland is the first CEO of Thrive Allen County, a nonprofit working to improve quality of life and economic conditions in Allen County, Kansas (pop. 13,000). A seventh-generation Allen Countian, Toland oversees a coalition known nationally for innovative approaches to improving rural healthcare access, healthy lifestyles and economic development. As CEO Toland has overseen Thrive's transformation from a small, volunteer coalition into a force instrumental in the development of 27 miles of trails; voter approval of a new critical access hospital; passage of Kansas' third Tobacco 21 ordinance and ninth Complete Streets ordinance; the opening of a federally-qualified health center (FQHC); and the redevelopment of the former county hospital site into a supermarket and apartment neighborhood. Toland also led Allen County's successful pursuit of the 2017 Robert Wood Johnson Foundation Culture of Health Prize. Prior to returning to Kansas in 2008 Toland served as Chief of Staff in the DC Office of Planning and as Deputy COO to DC's Deputy Mayor.
Janet Topolsky is executive director of the Aspen Institute Community Strategies Group (CSG). For more than 35 years, she has helped rural and urban community leaders, organizations and policymakers across the country find, create and spread community and economic development strategies that work. At CSG since 1993, Topolsky has become a specialist in peer-learning techniques, family asset building, connecting low-wealth places and populations to regional economic development and better livelihoods, and community development philanthropy – which builds the capacity of place-rooted foundations to make strategic investments that enhance economic prospects. Before Aspen, Topolsky worked as a development policy analyst and writer; communications director for the Corporation for Enterprise Development, where she edited CFED's Entrepreneurial Economy Review; special assistant to the director of the Michigan Department of Commerce; and a youth policy advocate and organizer.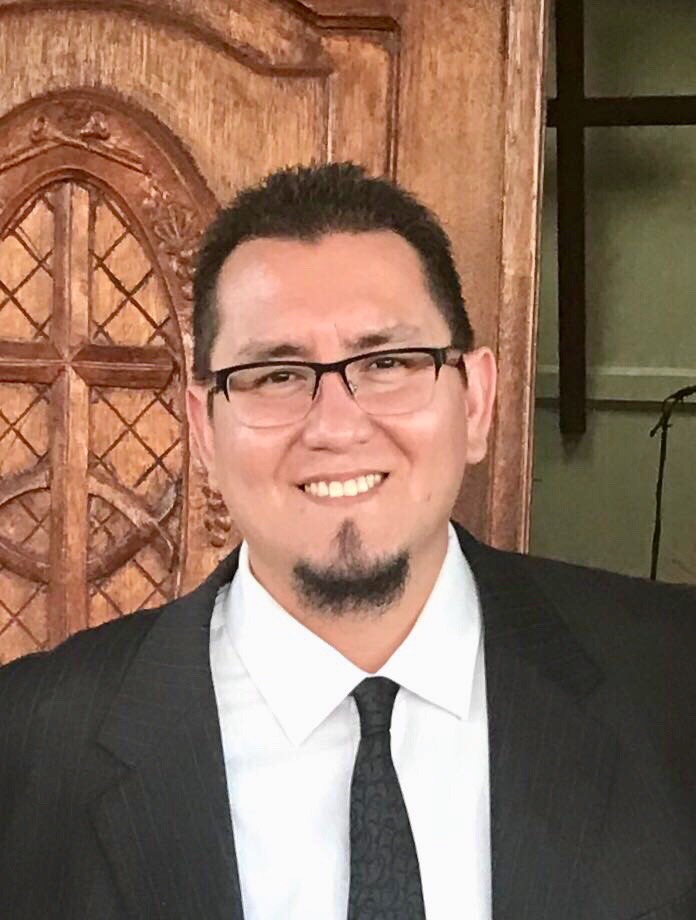 Edgar Vergara Millán is originally from Mexico. His hometown of San Luis Rio Colorado is located on the border with Arizona in Northwestern Mexico, where he lived until 2009 when he moved to North Carolina to attend seminary. While living in Mexico, Edgar served in ministry with migrants from Southern Mexico and Central America who were stranded at the border between Sonora and Arizona. Before coming to North Carolina, Edgar served as the pastor of a Hispanic/Latino United Methodist church in Somerton, Arizona and as associate pastor at Fort Yuma United Methodist Mission, which is a Native American congregation located in Winterheaven, California.
Edgar graduated from Duke Divinity School in May of 2013 and was appointed by the North Carolina Conference of the United Methodist Church to plant a Hispanic/Latino mission in Henderson, North Carolina. In 2014, he was appointed to serve as the pastor of City Road United Methodist Church in the same city. During the past four years, he has worked towards the integration of both faith communities. By God's grace, and throough the faithful dedication of its people, City Road UMC is now a bicultural and bilingual community of faith that actively engages its surrounding community sharing the transforming love of Jesus Christ in practical ways. Edgar will be appointed to serve as the associate pastor of New Creation United Methodist Church in Durham, North Carolina on July 1st of this year. He will guide a discernment process with the people of New Creation UMC, in collaboration with the North Carolina Conference Office of New Faith Communities, to begin work towards the planting of a new faith community that serves with Hispanic/Latinx people and with the larger migrant community in the Durham area. Edgar is passionate about multicultural/multilingual ministry and is convinced that, because of God's mighty deeds in and through Jesus Christ, the barriers that divide God's people can be transformed into bridges that lead to justice, reconciliation, restoration, and unity. Edgar is thankful to be in this journey of service in ministry in the company of his wife Kena, his daughter Kenna, and their dog Maximus.
Napoleon Wallace serves as the Deputy Secretary for Rural Economic Development and Workforce Solutions at the North Carolina Department of Commerce. In this role, he manages the Department's support for North Carolina's rural communities, leading a team of specialists that help communities make the necessary preparations and infrastructure investments to attract business and spur economic growth. He also directs the Department's efforts to strengthen the state's workforce programs and streamline the delivery of services to both jobseekers and employers.
With more than 15 years of experience in finance and community economic development, Napoleon has served in various roles of increasing responsibility throughout his career. Prior to his current role, he served as the Social Investment Officer at the Kresge Foundation, focusing on making program – and mission – related investments into health and human services areas.
Earlier in his career, Napoleon served on the executive staff at Self-Help, where he managed several community and economic development initiatives, including small-business lending, financial institution turnarounds, mergers, portfolio acquisitions, community development real estate projects, and retail strategy. Napoleon also worked as an investment banker with Wachovia Capital Markets (now Wells Fargo Securities) and as a community banker with M&F Bancorp's Commercial Credit group.
Napoleon is a native of Pitt and Beaufort counties, the proud son of a teacher and a small-business owner. He earned a Bachelor of Science degree in finance from North Carolina Central University and an MBA from the University of North Carolina's Kenan-Flagler Business School.